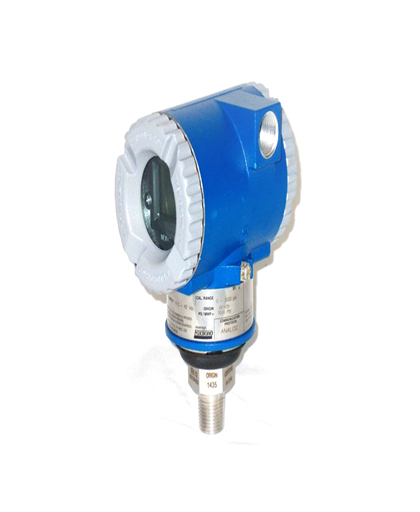 Foxboro IGP10 Series Electronic Transmitter
Specification
Output:-
4-20 mA Digital Signal, includes LCD Indicator with Pushbuttons for calibration and configuration
Intelligent: Digital FOXCOM or 4-20 mA, configurable
Intelligent: Digital HART and 4-20 mA
Voltage Output: 1-5 mV, Low Power
Range:-
Span Limits: IGP10 – 3.5 in H2O and 30,000 psig
IAP10 – 1 and 3000 psia
Materials:-
Sensor Wetted Parts: Co-Ni-Cr, 316L ss, Hastelloy C, Monel, Tantalum, Gold-plated 316L ss.
Fluid:-
Sensor Fill Fluid: Silicone, Flourinert
Process Flanges: CS, 316 ss, Hastelloy, Monel, pvdf(Kynar)
Features:-
Long-term stability with drift is less than +0.05% of URL per year for 5-years.
Simple, elegant sensor packaging uses very few parts to achieve exceptionally high reliability
Co-Ni-Cr, 316L ss, and Nickel alloy (equivalent to Hastelloy® sensor materials for all transmitters.
Can be provided with numerous configurations of direct connect or remote mount seals.
Offered for high gauge pressure applications to 52, 105, or 210 MPa (7500, 15 000, or 30,000 psi).
Integral process connections for sanitary, and pulp/paper installations.
Description
Foxboro IGP10 series electronic transmitters are two-wire transmitters that are mainly used to measure gauge or absolute pressure in industrial environments. Proven to deliver reliable and precise measurement, these Foxboro IGP10 pressure transmitters enable remote monitoring and configuration through superimposed HART digital signal. They can transmit 4–20 mA output signal. These pressure transmitters belong to the well-known Foxboro I/A series, which have set high standards for industrial pressure measurement.


Technical Data-Sheet
Models-IAP10-IGP10-IAP20-IGP20-and-IDP10.pdf
Features of Foxboro I/A Series Pressure Transmitters
Foxboro IGP10 pressure transmitter possess several prominent features of I/A series pressure transmitters. The following are a few important features of Foxboro I/A pressure transmitter.
The transmitters of this series use a common 4 to 20 mA output electronics module. As all the calibration and configuration data is stored in the sensor, the module can be easily replaced or migrated to other standards.
These transmitters use a microprocessor-based correction, which helps them achieve accurate and ambient temperature compensation.
User-friendly designs differentiate these transmitters from other models. Users can utilize features such as rotatable top works, wiring guides and terminations, and two conduit entrances to their advantage.
I/A series pressure transmitters are equipped with silicon strain sensors, which assure reliable performance in harsh industrial environments.
Beneficial Features of Foxboro IGP10 Pressure Transmitter
IGP10 pressure transmitters are widely known for several benefits they offer over other pressure transmitters. The following benefits have contributed to their easy acceptance in several critical industrial applications.
The transmitter is provided in a simple and elegant packaging and have few parts, which helps ensure high reliability.
These transmitters are offered in three absolute pressure versions and four gauge pressure versions. The absolute pressure versions allow spans from 7 to 21 000 kPa (1 to 3000 psi), while the gauge versions allow spans from 7 to 42 000 kPa (1 to 6000 psi).
Known for rugged construction, the transmitter is housed in epoxy-coated 316 SS or aluminum housing. The housing meets IEC IP66 and NEMA 4X specifications.
The transmitter uses Hastelloy C or 316L SS process connections, and the sensing diaphragms can be availed in the choice of materials such as Hastelloy, 316 SS and Co-Ni-Cr.
They can be availed in numerous configurations of remote mount or direct mount seals.
IGP10 transmitters are CE marked, which means they comply with applicable EMC ATEX as well as PED European Union Directives.
These transmitters meet various agency requirements for hazardous locations. They are also available in flameproof and zone requirements.

Pressure transmitters

can be used to make integral process connections in paper/pulp and sanitary applications.
The HART protocol enables multidrop topology. Additionally, the transmitter can be easily upgraded to FoxComTM, FOUNDATION fieldbus, or PROFIBUS fully intelligent versions.
IGP10 pressure transmitters are suited for vacuum service as they can easily handle a lower range limit of -100 kPa.
Equipped with removable, gasketed process connectors, these transmitters allow a wide range of selections including ½ NPT, ¼ NPT, Rc ¼, Rc ½, and weld neck connections.
They are covered by a standard 5-year warranty.
A SIL2- certified transmitter can be availed as an option.
In addition to all these features, IGP10 pressure transmitter assure the flexibility and performance of intelligent and configurable pressure transmitters, without a digital output signal. They provide the following benefits at low prices:
The transmitter is provided with an LCD display and on-board pushbuttons.
Configuration and calibration of onboard pushbuttons are as follows:
Zero and Span Settings
Forward or Reverse Output
Adjustable Damping
Failsafe Output; Downscale or Upscale
Rearrangement without applying pressure