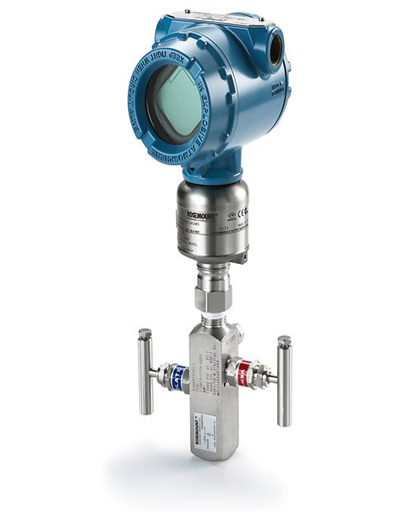 Rosemount 3051ST Pressure Transmitters
Specification
Output
Two-wire 4-20 mA is user-selectable for linear or square root output. Digital signal based on

HART Protocol

.
Measurement Range
3051S_TA: 0-0.3 to 0-10,000 psia
Accuracy
Classic: +0.035% of span, For spans less than 10:1: ±[0.015 + 0.005(URL / Span)]% of span
Ultra: +0.025% of span, For spans less than 10:1: ±[0.005 + 0.0035(URL / Span)]% of span
Ultra for Flow(3051S_CD Only, Ranges 2-3): +0.04% of reading up to 8:1 DP turndown from URL, or ±[0.04 + 0.0023(URL / Reading)]% of reading to 200:1 DP turndown from URL
Power Required
3051S: 10.5-42.4 V dc with no load
3051S with Advanced HART Diagnostic Suite: 12-42.4 V dc with no load
Materials of Construction
Sensor Wetted Parts: 316L SST, Hastelloy
Sensor Fill Fluid: Silicone, Inert (Halocarbon) (3051S_TG Only)
Process FlangeFeatures
Patented Rosemount Coplanar technology offers optimized performance as a pressure, DP Flow and DP Level solution
Best-in-class, scalable architecture enhances performance, functionality and process connections
Transmitter arrives fully assembled and leak tested for simple installation and maintenance
All-welded hermetic SST SuperModule platform resists overpressure and line pressure effects to ensure 0.025% accuracy
Ultra and Ultra for Flow performance classes deliver 15-year stability and 15-year limited warranty
200:1 rangedown produce reliable measurements and wide application flexibility
Integrates seamlessly with 4-20 mA HART®, WirelessHART®, FOUNDATION™ fieldbus protocols for application flexibility
SIL 2/3 certified to IEC 61508 (via 3rd party) and prior-use certificate of FMEDA data for safety installations
Remote display and interface offers easy access to process and device information
Description
Rosemount 3051S In-line Pressure Transmitters have compact design, which enables direct connection between a process and the transmitter. This helps speed-up the installation process, and thus making it easier and cost-effective. These transmitters are the industry leaders for Absolute and Gage pressure measurements.
Technical Data-Sheet
3051S-CD-CG-CA-TG-TA-min.pdf