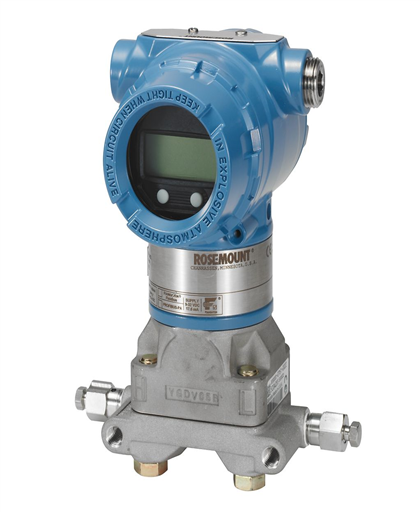 Rosemount 3051C Pressure Transmitter
Specification
Output
4-20 mA with digital signal based on HART Protocol
Low Power, 1-5 V dc with digital signal based on HART Protocol
Low power, 0.8-3.2 V dc with digital signal based on HART Protocol, optional
Range
0-.83 inches H2O to 2000 psig
0-0.1 inches H2O to 0-2000 psid
Accuracy
1: +/-0.10% of span
2-4: +/-0.04% of span
5: +/-0.065% of span
Power
4-20 mA: 10.5-42.4 V dc with no load
Low Power: 6-12 V dc with no load
Materials
Sensor Wetted Parts: SST, Hastelloy, Monel, Tantalum
Fluid
Sensor fill fluid: Silicone, Inert (Halocarbon)
Mounting
Coplanar and Traditional flanges
Adapters: Cadmium and Nickel-plated CS, 316 SST
Features
WirelessHART® technology is secure and cost-effective and delivers >99% data reliability
Over 10 million Rosemount 3051 devices installed globally, providing reliable pressure readings in harsh environments
Patented Rosemount Coplanar technology allows for direct mounting to multiple measurement applications
Complete pressure assemblies are leak-tested and calibrated to reduce leak points up to 70% and simplify installation
Integrated differential pressure (DP) flowmeters, DP level solutions and integral manifolds improve reliability and performance
SmartPower™ module provides up to 10-year maintenance-free operation and field replacement without transmitter removal
Easy installation enables quick instrumentation of measurement points without the cost of wiring
Description
Rosemount is one of the leading manufacturers of transmitters. Among the several transmitter models manufactured by this manufacturer, 3051C pressure transmitter is one of the most popular ones. The best feature of these transmitter is that it offers the benefits of patented coplanar technology. As the name suggests, this transmitter is designed for pressure measurement. At The Transmitter Shop (TTS), we can provide you high-quality remanufactured 3051C transmitters at competitive prices.

The Rosemount 3051C transmitter is easy to install and enables application flexibility. These transmitter devices are designed and developed in such a way that they are ready for direct mounting. Over 10 million 3051C series transmitters have been installed till now, and the number keeps on growing. This proves that it is one of the most reliable pressure measurement device used in the process industry.

The Rosemount 3051 pressure transmitter is a smart device that utilizes a combination of advanced technology, and the versatile coplanar process connection to deliver accurate results. This creates a new standard in the pressure measurement technology. The best part of this device is that it has the capability to deliver excellent performance with an unmatched reliability and long-term stability, even in harshest and demanding conditions.

With this 3051C transmitter, it possible for you to measure absolute, differential, and gauge pressure. The absolute pressure models of these transmitters use piezoresistive sensors, which is an advanced capacitance sensor technology. This helps the transmitter to provide accuracy up to ±0.04% in its total operating performance. Another important feature of the Rosemount 3051C pressure transmitter is that it has a five year stability of ±0.125% installed. This enables the transmitter to deliver consistent performance over a period of five years and that too in the most challenging process environments and conditions. These transmitters are known for their high level of stability and precision. These properties of the device mean lower maintenance and operating costs, reduced variability, and hence better plant safety.

The 3051C series transmitter that we provide can either come with traditional flanges or a versatile coplanar platform by Rosemount designed for delivering an optimal process connection for pressure applications. These transmitters are pressure-tested, and factory calibrated. So, you can directly install and start using them. You can select from a wide range of material options for these smart Rosemount 3051C pressure transmitters. Besides this, these devices comply with a number of hazardous area certifications and standards.


Technical Data-Sheet
3051-CD-CG-CA-TG-TA-min.pdf