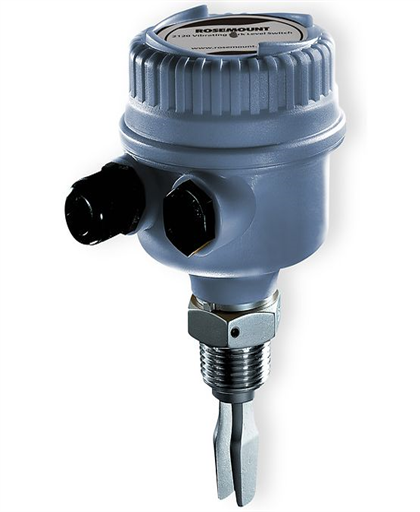 Rosemount 2120 Level Switch - Vibrating Fork
Specification
Magnetic test point makes testing of the Rosemount 2120 easy
Can be operated using the sun or battery as a power source with the 12Vdc option
Fast drip fork design gives a quicker response time, especially with viscous liquids
Adjustable switching delay enables easy handling of turbulent and splashing applications
Communication Protocol
Direct Load, PLC/PNP, Relay, 8/16 mA, NAMUR
Process Media Density
Minimum 37.5 lb/ft3 (600 kg/m3)
Viscosity
0.2 to 10000 cP (centiPoise)
Operating Pressure
Full vacuum to 1450 psi (Full vacuum to 100 bar)
Operating Temperature
-40 to 302 °F (-40 to 150 °C)
Safety
SIL2 IEC 61508 certified
TÜV tested and WHG approved for overfill prevention
Diagnostics
Electronic self-checking and condition monitoring
Description
A level switch is basically a sensor, which measures the level of a given fluid and provides an electrical output. Vibrating fork level switches are widely used in such fluid measurement applications. They detect the changes in the level of fluids by sensing the harmonic vibration frequency. The Rosemount 2120 vibrating fork level switch works on this principle, is cost effective and adds value to any process.
Beneficial Features of Rosemount 2120 Level Switch - Vibrating Fork
There are many benefits of Rosemount 2120 vibrating fork level switches. Here are a few of them:
The Rosemount 2120 vibrating fork level switches are designed to work in a wide temperature range from –40 to +150 °C.
They are resistant to harsh process conditions.
These level switches do not require calibration and do not have any moving parts; hence they are easy to install.
The fast drip fork design of these 2120 liquid level switches make them ideal for the measurement of viscous fluids, and the feature helps increase the response time.
They have a minimum process media density of 600 kg/m3.
Rosemount 2120 vibrating fork level switches are SIL2 IEC 61508 certified. Also, they are TÜV tested and WHG approved for overfill prevention.
Their electronic self-checking and condition monitoring system helps diagnose issues on time.
These level switches can handle full vacuum operating pressures up to 1450 psi.
They can measure levels of fluids with viscosity ranging from 0.2 to 10000 cP (centipoise).
The communication protocols they follow are Direct Load, Relay, 8/16 mA, PLC/PNP, and NAMUR.
Rosemount 2120 vibrating fork liquid level switch feature adjustable switching delays, which enables easy handling of splashing and turbulent liquids.
The

Rosemount

battery can be easily tested with the help of a magnetic test point.
If you want to install it, ensure you refer to the Rosemount 2120 level switch manual to understand the safety warnings and precautions in detail.