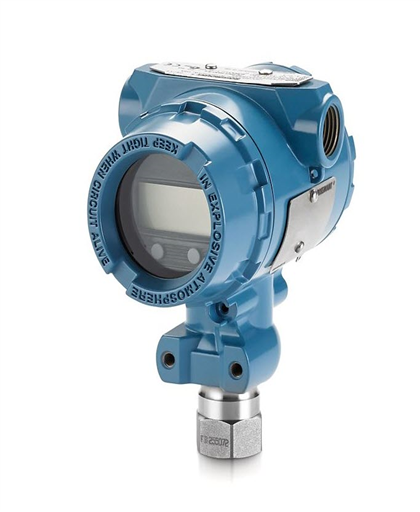 Rosemount 2088 Pressure Transmitter
Specification
Output
4-20 mA with digital signal based on

HART Protocol

Low Power, 1-5 V dc with digital signal based on HART Protocol
Range
Up to 4,000 psig (275,8 bar) Gage
Up to 4,000 psia (275,8 bar) Absolute
AccuracyPower
4-20 mA: 10.5-42.4 V dc with no load
Low Power: 6-12 V dc with no load
Process Wetted Material
Description
With the Rosemount 2088 gage and absolute pressure transmitter, you can be guaranteed with accurate, stable, and reliable pressure measurement in difficult applications. Designed with reliability, long-term performance, and maintainability in mind, this quick and easy-to-install solution can be installed in hazardous environments for repeatable pressure measurement. Rosemount 2088 smart pressure transmitter has a compact and lightweight design that makes it extra user-friendly. This high performance pressure transmitter has in-built configuration buttons, as well as easy-to-use menus that facilitate easy commissioning on the spot. The Rosemount pressure transmitter 2088, which can be availed with remote seals, and manifolds, utilizes piezoresistive sensor technology for AP and GP measurements. If you require an economical option for your pressure measurement, you can source it from The Transmitter Shop at the best prices.
Features of Rosemount 2088
We, at TTS, offer 2088 pressure transmitter in protocols 1-5 V DC and 4-20 mA HART, which allows flexibility for low power applications. The following are the other notable features that add to the popularity of 2088 gage pressure transmitter.
Compact and Light Weight: Weighing approximately 2.44 lb. (1,11 kg), Rosemount 2088 smart pressure transmitter can be mounted directly to the impulse line without taking much painstaking efforts. There is no need of using additional mounting bracket for installation.
Ease of Use Guaranteeing Quick Start Up: The transmitter is extremely easy to use as it is equipped with straightforward menus and built-in configuration buttons. It also assures quick start-up as it features factory-assembled and leak-checked integral manifold and remote seal solutions.
Improved Functionalities: Our range of 2088 pressure transmitter sets the standard for total performance with several advanced functionalities. The Rosemount transmitter 2088 we offer is equipped with the following:

Stainless steel or Hastelloy wetted materials
Smart communications
External push button zero and span capabilities
Factory-assembled and leak-checked integral manifold

Allows Commissioning On the Spot: At TTS, the offered 2088 pressure transmitter is equipped with Local Operator Interface (LOI) that has easy-to-use menus and built-in configuration buttons. This allows the user to easily commission the device on the spot. You don't require complicated tools for such commissioning.
Fully Configurable LCD display: The device also features an optional, fully configurable LCD that displays the following information directly from microprocessor.

Display process variable
Percent of range
Diagnostic messages

Certified for Hazardous Locations Applications: The industrial gage pressure transmitters for sale at TTS are certified for use in strenuous conditions. They can be reliably used in applications ranging from high-pressure measurements in boilers and fuel feeds. This gage pressure transmitter is in compliance to the following:

Ordinary Location Certification for Factory Mutual
Canadian Standards Association (CSA)
ATEX Intrinsically Safe
ATEX Flame-Proof
JIS Flame-Proof
The offered Rosemount pressure transmitter 2088 also features:
0.075% high accuracy option
0.10% reference accuracy, including linearity, hysteresis, and repeatability
Absolute and gage pressure ranges from 0–1.5 psi to 0–4,000 psi (0–0.1 to 0–276 bar)
Rugged construction using 316L SST, 316L SST, Inert, Alloy C-276, Alloy C-276, Silicone that guarantee long term of service in harsh environments.
Powered by advanced sensor technology
Simple integration possibilities
Technical Data-Sheet
2088-2090.pdf