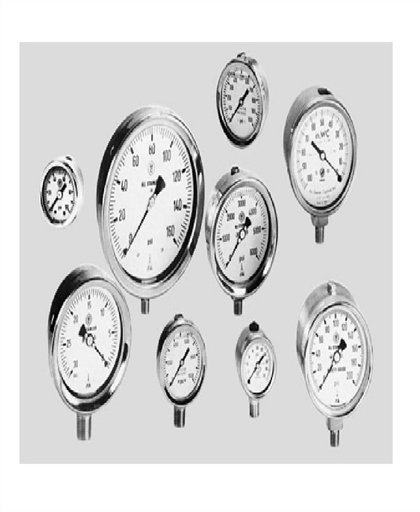 PROCESS GAUGES
Specification
Accurate pressure measurement is a requisite in any process industry. Extreme high or low pressure measurements can lead to disastrous consequences. Pressure gauges are one of the most important pressure instruments used for the purpose. At The Transmitter Shop (TTS), we help our process industry clients with accurate pressure measurement with MPB/s McDaniel process gauges. These pressure gauges are designed to meet complex and harsh requirements of power, petrochemical, and process industries.
Common Features of McDaniel Process Gauges
McDaniel has developed process pressure gauges for the process industry, where safety is a prime concern. These pressure gauges are distinguished with the following features:
Solid and hinged blow-out back
Turret-style case
Scratch resistant, 4 mm thick, laminated safety glass lens
Specifications for MBP/s Process Gauges
Following specifications will help you understand what makes McDaniel process gauges the best in the industry:
Accuracy: 0.5% full scale to ASME 840.I standard (Grade 2A)
Case: Made from Polybutylene Terephthalate (PBTP), the case is fire retardant and impact resistant with an integral rear flange
Dial: Aluminum alloy construction, white background, and black figures
Pointer: Aluminum alloy construction, adjustable micrometer, and painted black
Lens: 4 mm/.16″ thick laminated safety glass
Lens Ring: Polybutylene Terephthalate (PBTP). Molded fiberglass reinforced thermoplastic
Movement: Precision stainless steel (Mechanical over range top)
Liquid Fillable Glycerin ( GF)
Bourdon Tube: Type 316 Stainless steel construction

C Form 600 PSI & Below
Spiral Form 800 PSI & Above

Blow-out Back: Molded fiberglass reinforced thermoplastic. The PBTP is hinged for safety, and it will not become a projectile.
Compensating Diaphragm: Elastomer with integral "O" ring seal. This diaphragm is filed ready for filling, is weatherproof, and hermetically sealed. No fill kit is required.
Stem and Socket: 316 Stainless steel (7/8″/ 22mm wrench flats), high quality "rolled" threads, bottom connection (1/4″, 1/2″ NPT or Metric), and helps prevent galling.
Options

Internals: Monel
Dial: Glow
Case: Colored Cases in red, blue, or yellow
Mounting: Panel Flange Kit
Indicators: Reflective
Benefits of McDaniel Pressure Gauges
Following benefits of McDaniel gauges makes them popular with our process industry customers:
Accuracy: There is an elastomer compensating diaphragm on the interior of the hinged blow-out back for equalizing case pressure. This diaphragm provides sealing against fill fluid leakage, and corrosive elements. Also, it helps maintain gauge accuracy.
Designed for High Pressure Environments: All process pressure gauges are designed to withstand full-scale pressure up to 300% without rupturing the bourdon tube, and full scale pressure up to 130% without losing accuracy.
Durable Construction: All McDaniel process gauges have fillable, watertight, and heavy-duty construction, which makes them a popular choice for the process industry.
To place an order, or to know more about McDaniel process gauges, please contact us on our toll-free number +1-888-964-8837, / or email us at sales@transmittershop.com.