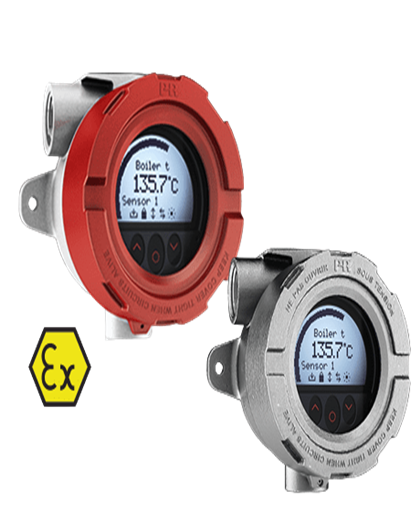 PR Electronics 7501 Temperature Transmitter
Specification
Accuracy:-
Better than 0.05% of selected rang
Response time (analog):-Temperature coefficient:-
50 ppm / °C (0.005% / °C)
Input types:-
RTD: Pt50, Pt100, Pt200, Pt500, Pt1000, Ni50, Ni100,
Ni120, Ni1000
Thermocouple: B, E, J, K, L, Lr, N, R, S, T, U, W3, W5
Bipolar mV signals
Resistance signals
Output types:-Voltage drop:-
10 VDC (backlight off)
12 VDC (backlight on)
Operating temperature:-Humidity:-EMC:-
EMC immunity influence < ±0.1% of selected range
Extended EMC: NAMUR NE21 burst, A criterion – as well as NE43 and NE89
EN 61326-1 certification
Configuration types:-
LOI, PC with HART or HART terminal
Display type / diameter:-Number of process value digits:-Buttons:-
Three optical buttons: up arrow, down arrow and OK
Backlight color:-
Description
Now you can benefit from easy programming and quick, at-a-glance review and diagnostics of your process values with the 7501 Field mounted HART temperature transmitter. Using unique technology, you can configure the transmitter from the front of the housing in any environment by simply touching the optical buttons - even when wearing gloves.
You can also perform advanced HART programming from the front, and as a result, significantly reduce the need for handheld communicators (HHC). The temperature transmitter delivers exceptionally high measurement accuracy and HART 7 functionality with HART 5 compatibility.
The Field mounted HART temperature transmitter can be mounted in 3 ways: on the temperature sensor, on a pipe, or on a bulkhead. The display can be rotated in 90-degree increments for easy vertical or horizontal viewing.