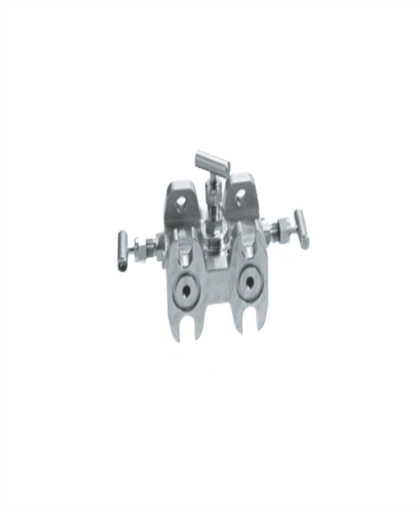 KMM4A 3-VALVE Differential Pressure Manifold
Specification
The KMM4A 3-valve-style manifolds are designed as a compact sized alternative to the integral full-sized 3-valve manifolds. These kerotest manifolds feature two main block valves, and an additional equalizing valve. Being small and lightweight, these inexpensive
kerotest manifolds
make an integrated package when they are directly or remotely mounted with the transmitter.
Features of KMM4A 3-Valve-Style Manifolds
The following beneficial features of KMM4A 3-valve-style manifolds have contributed to their increase in demand in recent years.
Every 3-valve style manifold assures 100% bubble tight shutoff.
Featuring space-saving design, one valve of the manifold can replace three other valves. This helps reduce instances of leak and fugitive emissions, when used in industrial environments.
These manifolds are feature a blowout proof stem, which helps avoid blowout problems. Also, the stem design helps prevent accidental back-out.
Bonnet threads and rolled stem help increase wear resistance, strength, as well as life of manifold.
The stems are highly polished, which helps increase their operational life as well as packing life of the manifold.
These manifolds are equipped with metal-to-metal bonnet-to-body seal, which help reduce corrosion of the bonnet thread and maintain pressure integrity.
These kerotest manifolds can be directly mounted to 2-inch pipe. The installation can be easily achieved using KMC mounting kit. This permit enables easy piping installation without the transmitter. Also, it enables easy instrument removal.
KMM4A 3-valve manifolds feature soft seat, which can be easily replaced, whenever required. They are also provided with metal seats.
The O-ring seal helps isolate the steam thresholds from the process fluid. This further reduces instances of thread corrosion.
Description
The "mini" is low-cost,small-sized, full-featured manifold. features include backseat stream design that prevents blowout problems and o-rine stem seal that protects stem threads from corrosion.
Technical Data-Sheet
KEROTEST_ManifoldCatalog.pdf