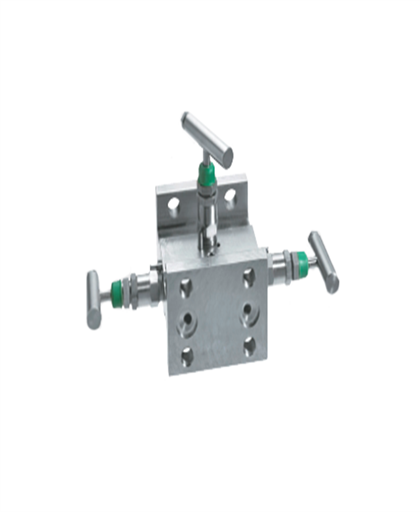 KM4A 3-VALVE Differential Pressure Manifold
Specification
The KM4A-3 valve differential pressure manifold feature two main block valves, and an additional equalizing valve. This kerotest manifold is designed for remote 4T mounting or direct 4A mounting to differential pressure transmitters. These manifolds are suited for differential pressure transmitters featuring 2-1/8 inch (54mm) centers.
Beneficial Features of KM4A-3 Valve Differential Pressure Manifolds
The KM 4A-3 valve differential pressure manifolds are equipped with the following features, which make them ideal for critical industrial applications.
The differential pressure manifold has a space saving design, and one valve can easily become a replacement for three valves.
A space saving design means less movable parts, which helps reduce leaks as well as fugitive emissions.
Every manifold assures 100% bubble-tight shutoff.
These differential pressure kerotest manifolds feature soft seat valves which have roddable design. This special design helps simplify maintenance by eliminating purge-style cleaning.
The blowout proof stem of these kerotest manifolds help prevent accidental back-out, thereby eliminating blowout problems.
Rolled stem and bonnet threads of these 3-valve manifolds increase service life, wear resistance, and strength.
The stems are highly polished, which ensures better packing life and operational life.
These manifolds feature metal-to-metal bonnet-to-body seal that helps minimize corrosion of threads, as well as improve pressure integrity, and provide reliable sealing.
There is an adjustable packing below the thread, which reduces the chances of corrosion by isolating stem threads from the process fluid.
These kerotest manifolds are equipped with bonnet caps that help improve valve life, as well as protect threads from corrosion.
Soft seats of these valve manifolds can be easily replaced, with valve in the line. Metal seat options are also provided.
These manifolds are provided in multiple packing options including Teflon® and GRAFOIL® packing.
These manifolds enable direct pipestand mounting to a 2-inch pipe. The mounting can be easily completed using a KMC mounting kit. The kit facilitates easy installation and maintenance.
Description
This model feature two main block valve and an equalizing valve,Along with all the standard features,this model also offers direct-to-pipe stand mounting, that means complete loop installation without the transmitter ,as well as instrumentation removal without distrusting the installation.
Technical Data-Sheet
KEROTEST_ManifoldCatalog.pdf