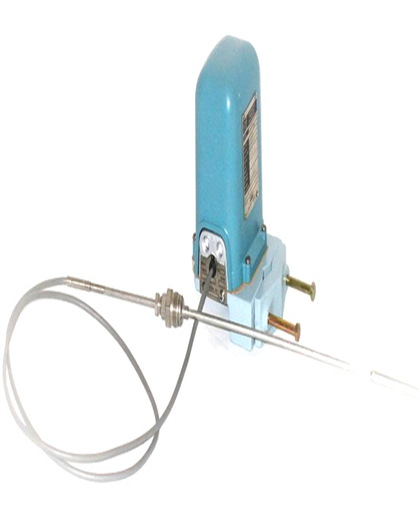 Foxboro 12A - Pneumatic Temperature Transmitter
Specification
Accuracy:-
Includes Linearity, hysteresis, and repeatability ±0.5% of span.
DeadBand:-Repeatability:-Supply Pressure Effect :-
The zero shift is less than 0.2% of span for a 5% change in supply pressure.
Ambient Temperature Effect :-
The output error is less than 0.75% of span at midscale for a 28°C (50°F) change between 0 and 55°C (32 and 130°F).
Barometric Pressure Effect :-
The output error is less than 0.25% of span for a change of 7 kPa (2 inHg, 50 mmHg, or 70 mbar) in barometric pressure.
Ambient Temperature Limits :-
–35 and +180°C (–30 and +180°F). The vinyl covered portion of the connecting tubing must be in an area between –55 and +105°C (–65 and +220°F).
Supply Pressure:-
140 kPa, 20 psi, 1.4 bar or kg/cm2, ±10%. The supply air must have a dew point at least 10°C (18°F) below the expected operating ambient temperature.
Air Connections :-
The supply and output connections are tapped for 1/4 NPT.
Output Signal 20 to 100 kPa, 3 to 15 psi, or 0.2 to 1.0 bar or kg/cm2, as specified.
Air Consumption under Normal Operation :-
0.5 m3/h (0.3 cfm) at standard conditions
Features:-
Die-cast low copper aluminum alloy with baked gray vinyl finish.
Blue, high-impact, glass-filled polycarbonate.
The transmitter housing is weatherproof. It is dust protected as defined in IEC IP54 and, with its constant air purging, provides the environmental protection of NEMA Type 3.
Vinyl covered AISI Type 302 stainless steel (302 ss) flexible armor over 316 ss capillary. The length is 1 mm (3.5 ft).
Mass Approximate 2.8 kg (6.3 lb) with general purpose thermal system and bushing.
Description
The 12A Series transmitters are used with pneumatic receivers to indicate, record, or control the temperature of processes. By means of the standard Foxboro force-balance mechanism, these transmitters produce a 20 to 100 kPa, 3 to 15 psi, or 0.2 to 1.0 bar or kg/cm2 output signal proportional to the temperature at the sensor. The accuracy of these transmitters, even for narrow span suppressed-zero ranges, is a function of span and is independent of the upper range value. A single screwdriver adjustment allows the instrument zero to be elevated or suppressed 100% of span. Additional elevation or suppression may require a change in the ambient compensating bellows.
Technical Data-Sheet
Foxboro_Pneumatic-Instruments-CATALOG.pdf