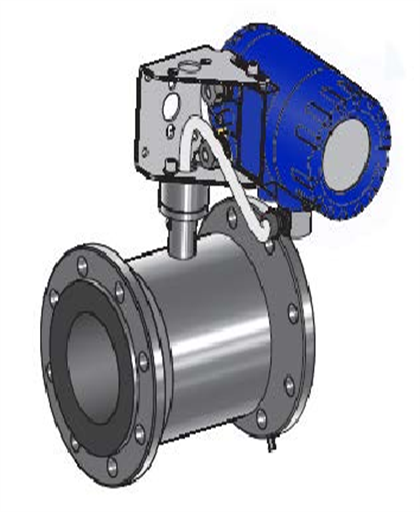 Electromagnetic Flowmeter Type PEM-1000
Specification
Specification for PEM-1000 control unitElectrical conductivity of the medium:-Input resistance:-
Accuracy:-

±0,5% of reading at 207100% Q10m/s
special version: ±0,2% of reading at 207100% Q10m/s
(for reference conditions)*

Low flow rejection:-Actual flow:-

both directions (l/s,m3/h, m3/s, other)

Totalizer:-

3 counters: total, positive, negative (m3, other)

Configuration:-

LCD display/buttons or Modbus RTU via RS485

Empty pipe detection:-Analog output:-

4 ÷ 20mA/5000
active output (passive output – on request)

Pulse/frequency output:-

max. 24V/10mA DC
0,1…2000Hz in frequency mode
up to 500Hz in pulse mode

2-state output OC:-

2, open collector, max. 35V DC for each
galvanic insulation, reverse polarity protection

Communication output:-

Modbus RTU/RS 485
galvanic insulation

2-state input:-

5…35V DC/2mA
passive input, galvanic insulation, reverse polarity protection

Power supply:-

90..260V AC/50Hz/15VA
10…36V DC/15W (reverse polarity protection)

Protection class:-Ambient temperature:-Weight:-Specification for PEM-1000 sensor

Nominal size:-

DN10 ÷ 1000 / ANSI 0,5"…40"

Max. static pressure:-


Standard: 1,6MPa (2,5MPa, 4MPa on request)

Process connection:-Ambient temperature:-Liner temperature range:-

Rubber: -5÷90°C
Neoprene: 0÷80°C
Teflon PTFE: -25÷90°C
PFA: -10÷90°C

Connection cable:-

Standard: 8m (other on request)

Electrodes material:-Liner:-

Hard rubber DN40÷1000
Neoprene DN40÷1000
Teflon PTFE DN15÷500
PFA DN10

Casing and flange material:-Rustproofing:-Excitation coils supply:-Excitation of coils isolation class:-Protection class:-

Standard: IP67, (IP68 on request)

Measuring principle:-Accessories:-
Description
Features
Nominal size: DN10...1000 / ANSI 0,5...40"
Maximum static pressure 1,6MPa
Accuracy: 0,5% or 0,2%
Analog outputs: 4...20mA,
Communication interface: Modbus RTU / RS 485
Pulse output (uni- or bidirectional) or frequency output
Application
Electromagnetic flowmeter for bidirectional measurement of liquids with a minimum conductivity of 5 S/cm:
Acid, alkalis
Paints
Pastes
Water, Wastewater, etc.
Measuring principle:
Following Faraday's law of magnetic induction, a voltage is induced in a conductor moving through a magnetic field. In the electromagnetic measuring principle, the flowing medium is the moving conductor. The voltage induced is proportional to the flow velocity and is supplied to the amplifier by means of two measuring electrodes. The flow volume is calculated by means of the pipe cross-sectional area.The DC magnetic field is created through a switched direct current of alternating polarity.
Measuring System:
The measuring system consists of a transmitter and a sensor. Two versions are available:
Compact version: Transmitter and sensor form a mechanical unit PEM-1000ALW
Remote version: Sensor is mounted separate from the transmitter PEM-1000NW
Advantages
Flexible and clever assembling system
Easy and fast-moving change from compact to remote version
Innovative and high-power transmitter for every application
Robust and resistant cover of sensor and transmitter
Technical Data-Sheet
The-Transmitter-Shop-PEM-1000.pdf