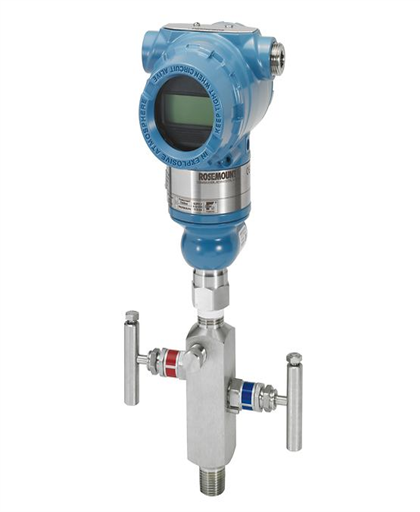 Rosemount 3051T Pressure Transmitter
Specification
Output
4-20 mA with digital signal based on HART Protocol
Low Power, 1-5 V dc with digital signal based on

HART Protocol

Low power, 0.8-3.2 V dc with digital signal based on HART Protocol, optional
RangeAccuracy
1-4: +/-0.04% of span
5: +/-0.075% of span
Power
4-20 mA: 10.5-42.4 V dc with no load
Low Power: 6-12 V dc with no load
Materials
Sensor Wetted Parts: SST, Hastelloy, Monel, Tantalum
Fluid
Sensor fill fluid: Silicone, Inert (Halocarbon)
Mounting
Coplanar and Traditional flanges
Adapters: Cadmium and Nickel-plated CS, 316 SST
Features
Calibrated spans from 0.3 to 10000 psi
Total performance of ±0.15%
Unmatched Dynamic Performance
Optional PlantWeb Functionality to increase plant productivity
Responds up to eight times faster than the typical

pressure transmitter
Description
The Rosemount 3051T in-line pressure transmitter is widely used for absolute and gauge measurements across process industries. The transmitter combines advanced electronics technologies as well as sensor designs to provide accurate and reliable performance in various process environments. The rugged construction of the transmitter is the characteristic of the transmitters from the Rosemount 3051 family.
Features of Rosemount 3051T In-Line Pressure Transmitter
The Rosemount pressure transmitter 3051T has gained immense popularity in recent years owing to their typical features such as:
High Level of Accuracy and Stability Guaranteed: The Rosemount 3051T pressure transmitter is powered by advanced sensor technology, which helps maintain a reference accuracy of 0.0065% span. This accuracy aids in boosting the overall process efficiency. In addition to this, the transmitter offers installed five-year stability of ±0.125% and 150:1 rangedown. This stability is demonstrated for demanding process applications. This combination of accuracy and stability assures safety and reduction in operating and maintenance costs.
Compact Design: This design makes it easy to connect the transmitter to a process. The in-line, no-seal design also aids in quick installation, thereby saving users from huge installation costs incurred on other models. Being lightweight, the transmitter is easy-to-handle and manage.
Assures Rugged Construction: The Rosemount 3051T pressure transmitter is made of materials that comply with NACE MR0175. This construction enables them to withstand harsh working environments.
Suited for a Wide Range of Absolute and Gage Measurements: The Rosemount 3051T pressure transmitters can be configured to meet a wide range of absolute and gage pressure measurements. For instance, Rosemount 3051TA is an

absolute pressure transmitter

, and

Rosemount 3051TG

is a

gauge pressure transmitter

.

Rosemount 3051TG can be configured for the following pressure ranges.

–14.7 to 30 psi (–1,01 to 2,06 bar)
–14.7 to 150 psi (–1,01 to 10,34 bar)
–14.7 to 800 psi (–1,01 to 55,15 bar)
–14.7 to 4000 psi (–1,01 to 275,79 bar)
–14.7 to 10000 psi (–1,01 to 689,47 bar)
–14.7 to 20000 psi (–1,01 to 1378,95 bar)




Rosemount 3051TA can be configured for the following pressure ranges.

0 to 30 psia (0 to 2, 06 bar)
0 to 150 psia (0 to 10, 34 bar)
0 to 800 psia (0 to 55, 15 bar)
0 to 4000 psia (0 to 275, 79 bar)
0 to 10000 psia (0 to 689, 47 bar)
0 to 20000 psia (0 to 1378, 95 bar)

A Multitude of Output Options Available: The Rosemount 3051T pressure transmitter is provided with various output options, including 1-5VDC or 4-20mA with HART protocol, FOUNDATION, and Profibus. With these various output options, the

pressure transmitter

can be easily configured to any application.




Improved Safety: The 3051T

Rosemount pressure transmitter

shares common characteristics with other 3051 transmitters in terms of technology-driven features. These transmitters are equipped with Local Operator Interface (LOI) and Loop Integrity Diagnostics. LOI enables quick commissioning, and offers easy access to the device information, whereas the Loop Integrity Diagnostics allows users to detect loop integrity issues before they escalate, thereby minimizing downtimes.
Available Rosemount 3051T Models
3051T
3051TA1A2B21ab4Q4C1
3051TA1A2B21AK5
3051TA3A2B21AS5B4E5M5
3051TG1A2B21AB4E5
3051TG1A2B21AI5B4QSM5
3051TG4A2B21AB4M5
3051TG3A2B21A
3051TA1A2B21AKD
3051TG1
3051TG2
3051TG2A2B21AB4M5
3051TG2A2B21ABAM5
3051TG2A2B21ABV5
3051TG2A2B21AE5M5B4
3051TG2A2B21AM5
3051TG3A2B21AM5
Technical Data-Sheet
3051-CD-CG-CA-TG-TA-min.pdf