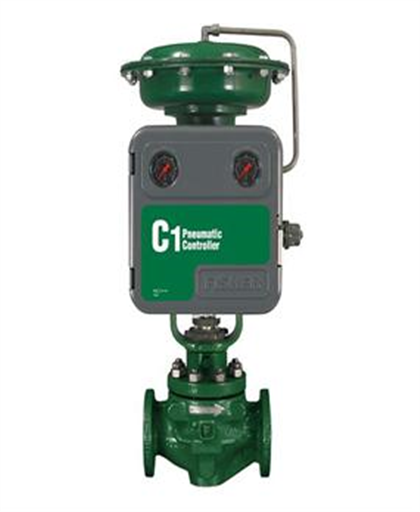 Fisher C1 Pneumatic Controllers and Transmitter
Specification
Simple, Versatile, and Durable Fisher C1 Controllers for Oil and Gas Applications
Fisher pneumatic pressure controllers and transmitters are designed to meet the needs of air and gas applications. They provide precise pressure measurement solutions, along with benefits of durability, and easy installation. The Transmitter Shop (TTS) provides a variety of Fisher instrumentation products, including the well-known C1 controller. This product is known for its reliability in demanding applications.
Features of the Fisher C1 Controller
The C1 controller is a pneumatic device, which can be used to measure the pressures of air and natural gas equipment in applications. It measures standard temperatures, and has a maximum outlet pressure of up to 40 PSIG. The design of the instrument is simple, allowing an operator to control the device easily.  The position controls can be set to on/off, or can be modulated as per the application requirements. The C1 controller is designed for remote, as well as actuator mounting.
TTS can provide the C1 controller with different components, depending on the application requirement. Our component options include:
The controller can be installed with either a Bourdon tube for high pressure applications, or a bellows for vacuum and low pressure equipment.
We also have a range of output gauges and bellows in different styles.
Benefits of the C1 Pressure Instrumentation Device
The simple design and operation of the C1 controller provides a variety of benefits to users and industrial applications.
The C1 controller can be configured to provide various modes of control.
TTS provides Fisher controllers that are compliant with the regulations of the US Environmental Protection Agency (EPA) for the oil and gas industry.
Fisher pneumatic pressure controllers have a steady consumption rate of less than 6 scfh. This makes it an energy efficient device, which can help improve application uptime.
Maintaining the C1 controller is uncomplicated. We provide spring-out cleaning wires, which allow for in-service relay orifice cleaning.
The C1 controller is versatile in terms of installation. It can be installed on the actuator or control valve, on a pipe stand, or even on a nearby panel.
TTs can also provide C1 controllers manufactured with specialized materials for applications that handle sour process fluids. All of these constructions comply with the regulations of NACE MR0175, ISO15156, and NACE MR0103. We offer new surplus, and reconditioned Fisher C1 pneumatic pressure controllers. We can also repair any type of Fisher Controllers you may be using. If you would like more information on the same, please contact us for more details.