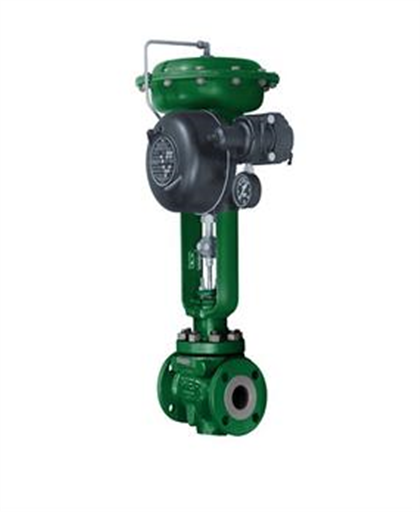 Fisher 546 Electro Pneumatic Transducer
Specification
Available Configurations:
Electro‐pneumatic signal transducer with
explosion‐proof case and cover
The 546 can be ordered with or without a Fisher 67
filter regulator. A 51 mm (2 inch) circular supply
pressure gauge may be mounted on the regulator.
Input Signals
4 to 20 mA DC
10 to 50 mA DC,
1 to 9 VDC,or
two‐way split range using any half of one of the
standard input signal spans
Internal Resistance of Torque Motor
4 to 20 mA DC Input Signal: 176 ±10 ohms
10 to 50 mA DC Input Signal: 90 ±10 ohms
1 to 9 VDC Input Signal: 1300 ±50 ohms
(temperature‐compensated circuit)
Output Signals
Ranges:0.2 to 1.0 bar (3 to 15 psig), 0.4 to 2.0 bar (6 to 30
psig), 0 to 1.2 bar (0 to 18 psig), or 0 to 2.3 bar (0 to 33 psig)
Action: The 546 is field‐reversible between direct and
reverse action.
Supply Pressure(1)
Recommended: 0.3 bar (5 psig) higher than upper range limit of output signal.
Maximum: 3.5 bar (50 psig)
Maximum Steady‐State Air Consumption(2)
At 1.4 bar (20 psig) Supply Pressure:0.6 normal m3/hr (21 scfh)
At 2.4 bar (35 psig) Supply Pressure: 0.8 normal m3/hr (30 scfh)
Maximum Output Air Capacity(2)
At 1.4 bar (20 psig) Supply Pressure: 12.9 normal m3/hr (480 scfh)/li>
At 2.4 bar (35 psig) Supply Pressure: 18.5 normal m3/hr (690 scfh)
Performance(3)
Reference Accuracy: ±0.75% of output signal span
Independent Linearity: ±0.50% of output signal span
Open Loop Gain: 26
Frequency Response: Gain is attenuated 3 dB at 20 Hz
with transducer output signal piped to a typical
instrument bellows with 305 mm (12 inches) of 1/4
inch tubing
Electromagnetic Interference (EMI): Tested per IEC 61326‐1 (Edition 1.1). Meets emission levels for Class
A equipment (industrial locations) and Class B
equipment (domestic locations). Meets immunity
requirements for industrial locations
Electrical Classification
Hazardous Area:
CSA—Explosion-proof, Dust Ignition‐proof, Div 2
FM—Explosion‐proof, Non‐incendive


NEMA 3R, CSA enclosure 3
NEMA 3R mounting orientation requires vent location to be below horizontal.
Adjustments
Zero and Span Adjustments:Screwdriver adjustments located inside case
Connections
Supply Pressure: 1/4 NPT internal located on side of case, (or located on the 67CFR filter‐regulator if mounted)
Output Pressure: 1/4 NPT internal located on side of case
Vent: 1/4 NPT internal with screen located on relay
Electrical: 1/2 NPT internal located on bottom of case
Approximate Weight
Description
Fisher® 546
Fisher® 546 transducers receives a direct-current input signal and use a torque motor, nozzle-flapper, and pneumatic relay to convert the signal to a proportional pneumatic output signal. Nozzle pressure, which operates the relay, is also piped to the torque motor feedback bellows. This provides a comparison between input signal and nozzle pressure and corrects errors in nozzle pressure.
Vibration Resistance—High natural frequency of torque motor moving parts results in negligible vibration influence. Also meets typical seismic requirements for nuclear service.
Easy Adjustment—Screwdriver adjustments for span and zero are conveniently located and have arrows indicating rotation to increase settings.
Field-Reversible Action—No additional parts required to reverse action of 546 or 546NS; 546S versions cannot be reversed in the field but can be purchased either direct or reverse acting.
Simple Relay Removal—Integrated pneumatic relay is mounted outside case and can be removed without disturbing electrical or pressure connections or impairing explosion safety.
Technical Data-Sheet
Fisher-546-Electro‐Pneumatic-Transducer.pdf