2-Wire Temperature Transmitter with HART Protocol - 5335D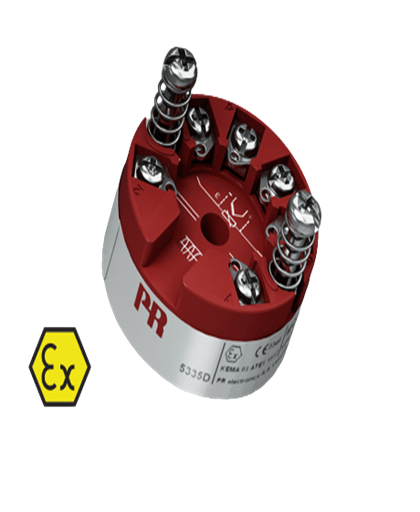 2-Wire Temperature Transmitter with HART Protocol - 5335D
Specification
Environmental Conditions:-
Operating temperature: -40°C to +85°C
Calibration temperature: 20...28°C
Relative humidity: <95% RH (non-cond.)
Protection degree (encl./terminal): IP68 / IP00
Mechanical specifications:-
Dimensions: Ø 44 x 20.2 mm
Weight approx: 50 g
Wire size: 1 x 1.5 mm2 stranded wire
Screw terminal torque: 0.4 Nm
Vibration: IEC 60068-2-6
2...25 Hz: ±1.6 mm
25...100 Hz: ±4 g
Common specifications:-
Supply:-

Supply voltage: 8.0...30 VDC



Isolation voltage

Isolation voltage, test / working: 1.5 kVAC / 50 VAC



Response time:-

Response time (programmable): 1...60 s
Warm-up time: 30s.
Start-up time: <2.75 s
Programming: Loop Link & HART
Signal / noise ratio: Min. 60 dB
Accuracy: Better than 0.05% of selected range
Signal dynamics, input: 22 bit
Signal dynamics, output: 16 bit
Effect of supply voltage change: <0.005% of span/VDC
EMC immunity influence: < ±0.1% of span
Extended EMC immunity: NAMUR
NE21, A criterion, burst: <±1% of span
Input specifications:-
Common input specifications:0

Max. offset: 50% of selected max. value



RTD Input:-

RTD type: Pt100, Ni100, lin. R
Cable resistance per wire: 5 Ω (up to 50 Ω per wire is possible with reduced measurement accuracy)
Effect of sensor cable resistance (3-/4-wire): <0.002 Ω / Ω
Sensor current: Nom. 0.2 mA
Sensor error detection:Yes



TC Input:-

Thermocouple type: B, E, J, K, L, N, R, S, T, U, W3, W5
Basic accuracy, e.g. TC K: ≤ ±0.25°C
Cold junction compensation (CJC): <±1.0°C
Sensor error detection: Yes
Sensor error current: When detecting / else: Nom. 33 μA / 0 μA



Voltage input:-

Measurement range: 800...+800 mV
Min. measurement range (span): 2.5 mV
Input resistance: 10 MΩ
Output specifications:-
Current output:-

Signal range: 4…20 mA
Min. signal range: 16 mA
Load (@ current output): ≤(Vsupply - 8) / 0.023 [Ω]
Load stability: ≤0.01% of span / 100 Ω
Sensor error indication: Programmable 3.5…23 mA
NAMUR NE43 Upscale/Downscale: 23 mA / 3.5 mA
of span: = of the presently selected range
I.S. / Ex marking:-
ATEX: II 1 G Ex ia IIC T6...T4 Ga, II 2 D Ex ia IIIC Db, I M1 Ex ia I Ma
< IECEx: Ex ia IIC T6...T4 Ga, Ex ia IIIC Db, Ex ia I Ma
FM, US: Cl. I, Div. 1, Gp. A, B, C, D T4/T6; Cl. I Zone 0, AEx ia IIC T4/T6; Cl. 1, Div. 2, Gp. A, B, C, D, T4/T6
CSA: Cl. I, Div. 1, Gp. A, B, C, D Ex ia IIC, Ga
INMETRO: Ex ia IIC T6...T4 Ga, Ex ia IIIC Da, Ex ia I Ma
Observed authority requirements:-
EMC: 2014/30/EU
ATEX: 2014/34/EU
RoHS: 2011/65/EU
EAC: TR-CU 020/2011
EAC Ex: TR-CU 012/2011
Approvals:-
ATEX: DEKRA 20ATEX0108X
IECEx: DEK 20.0063X
CSA: 1125003
c FM us: FM17US0013X
INMETRO: DEKRA 18.0002X
DNV Marine: TAA0000101
EAC Ex: RU C-DK.HA65.B.00355/19
SIL: Hardware assessed for use in SIL applications
Description
Application:-
Linearized temperature measurement with Pt100...Pt1000, Ni100...Ni1000, or TC sensor.
Difference or average temperature measurement of 2 resistance or TC sensors
Conversion of linear resistance variation to a standard analog current signal, for instance from valves or Ohmic level sensors
Amplification of a bipolar mV signal to a standard 4...20 mA current signal.
Connection of up to 15 transmitters to a digital 2-wire signal with HART communication
Technical characteristics:-
Within a few seconds the user can program PR5335D to measure temperatures within all ranges defined by the norms.
The RTD and resistance inputs have cable compensation for 2-, 3- and 4-wire connection.
The 5335D has been designed according to strict safety requirements and is therefore suitable for application in SIL installations.
Continuous check of vital stored data for safety reasons
Sensor error detection according to the guidelines in NAMUR NE89.
Mounting / installation:-
For DIN form B sensor head mounting