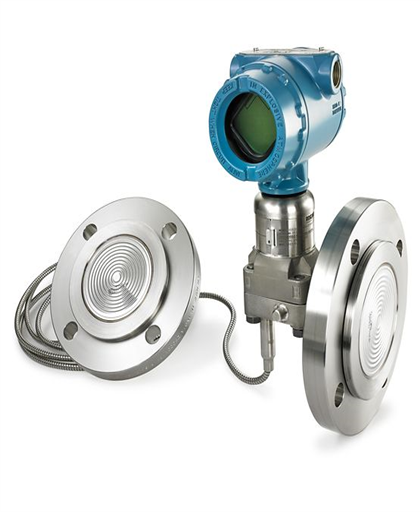 Rosemount 1199 Diaphragm Seal System
Specification
Seal System Type
Direct Mount
Remote Mount
Tuned-System
Balanced System
Process Connection
Flanged: ANSI/ASME, EN/DIN, GOST, & JIS
Threaded: NPT, DIN, ISO Hygienic
Process Wetted Material
316L SST
Alloy C-276
Alloy 400
Tantalum
Gold-plated Alloy 400
Gold-plated 316L SST, see PDS for full list of materials
Transmitter Connection
Welded-Repairable
All Welded
Description
Diaphragm seals are membranes that seal the space below the gasket, which holds the process fluid container. This is done to inhibit the process fluid from entering into the pressure sensing assembly, as it needs to be isolated. This, in a way, prevents the pressure sensors or transmitters from touching the fluid as it may be abrasive or toxic. This diaphragm seal system is used in difficult and harsh processes across industries. Emerson is one of the leading manufacturers of remote sensing devices used in process industries. Emerson Rosemount product portfolio assures quality process control measurement. The Rosemount 1199 diaphragm seal system is one such product, which is used for many remote pressure measurement applications. This seal system comprises Rosemount 1199 pressure transmitter, a remote diaphragm, a mounting option, and a capillary-type connection to collect the secondary fill fluid. This seal system features various solutions, which makes them suited for industry-specific seals for complex processes. When installing Emerson 1199 diaphragm seal system, make sure you go through the manual thoroughly.
Beneficial Features of Rosemount 1199 Diaphragm Seal System
There are many benefits of using the Rosemount 1199 diaphragm seal system. Here are a few of them:
The Rosemount 1199 remote seal protects transmitters against extremely cold, hot, as well as corrosive processes.
It is designed to handle huge temperature variations, chemicals, and abrasive fluids.
The Rosemount 1199 diaphragm seal system is easy to install as it does not require any separate mounting hardware. Thus, these seal systems can be utilized for several pressure measurements requiring remote measurements.

Rosemount DP level transmitters

enable the measurement of a mass inside a tank. It can be used to measure the fluid's level, density, and interface.
Rosemount 1199 diaphragm seal's adaptable direct mount absolute or gage system is suited for vented or pressurized tank applications.
There are various ways to mount the Rosemount 1199 remote seal system, as they serve specific purposes. For instance, the Rosemount 1199 direct mount transmitter system is useful for open or atmosphere tank applications. On the other hand, a tuned-system assembly is useful for closed tanks with externally applied pressure.
Tuned seal systems help reduce the effects of the temperature by 10% -20%. Also, these diaphragm seal systems can reduce response time by at least 80%.
Rosemount 1199 seal assemblies come in two types— welded-repairable, and all-welded vacuum system construction. The latter is specifically designed for vacuum applications.
The process connection is mainly of two types— flanged and threaded. This depicts the way in which the in-line flow-through seal is attached to the process piping system.
Emerson 1199 diaphragm seal systems are SIL 2/3 Certified to IEC 61508 (Via 3rd Party).
Technical Data-Sheet
1199_Seals.pdf